FREAKSHOW : PRE PARTY LINE-UP ANNOUNCEMENT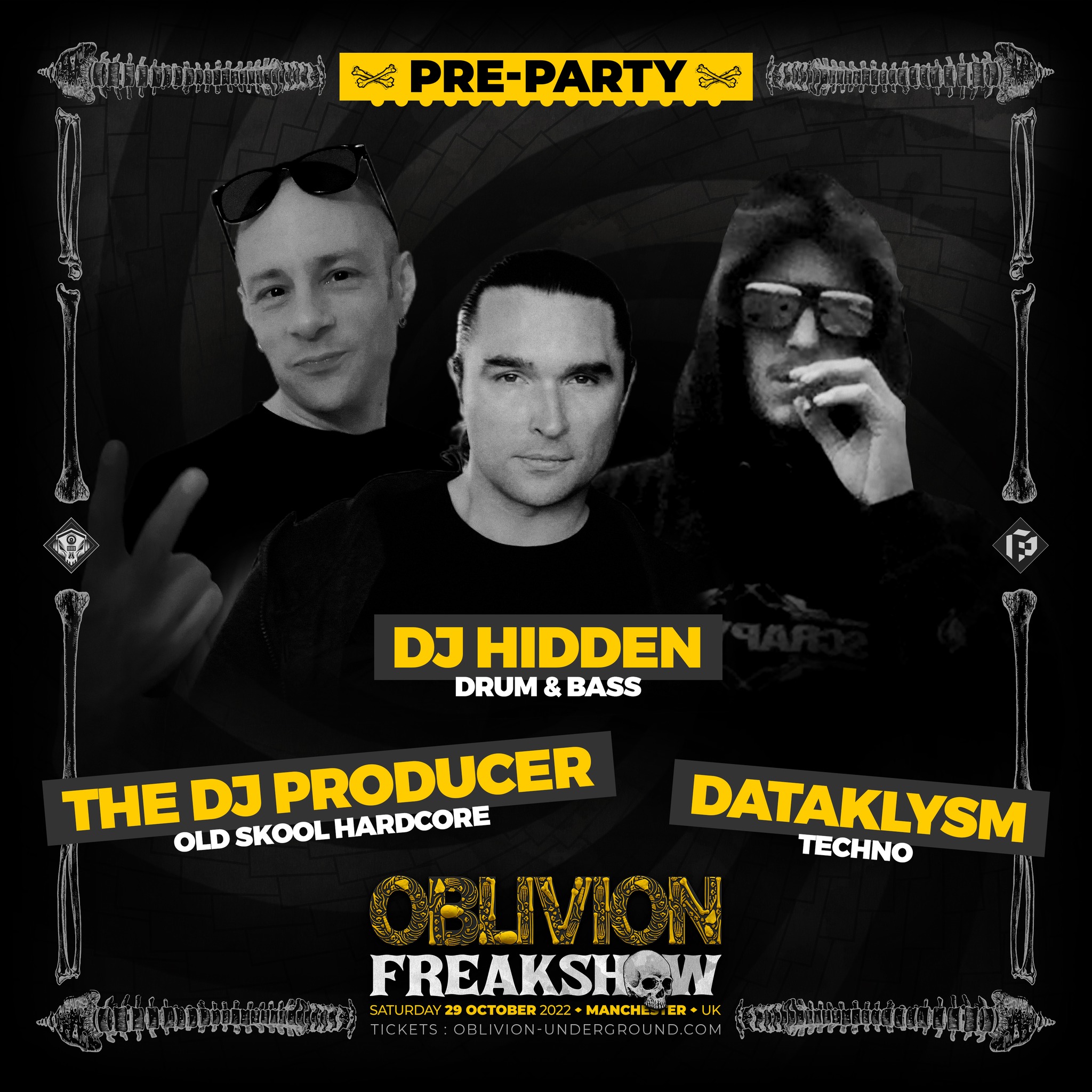 OBLIVION : FREAKSHOW
PRE PARTY LINE-UP ANNOUNCEMENT
As if this event couldn't get any better, we have organised a pre-party for our Halloween celebration on the terrace bar of the club.
Arrive early (18:00) and hang out with us for some exclusive and alternative sets from some of your favourite DJs.
– The DJ Producer will drop a set of Old Skool Hardcore
– DJ Hidden will roll out the Drum & Bass
– Dataklysm will pump out some 4/4 techno to get you fired up for the night ahead.
➡️ JOIN US.
—–
❓ How do you get access ❓
⚠ IMPORTANT :
You must have minimal standard ticket AND pre-party upgrade ticket
OR a VIP ticket to access the pre-party.
If you grab a VIP ticket, you get the royal treatment :
Cocktail on arrival, exclusive limited edition T-shirt, poster and direct access to the club before opening…
But you can also just grab a pre-party upgrade from the store and you are very welcome!
GET YOURS HERE
—–
💀 FULL FREAKSHOW LINE-UP
– The Outside Agency
– Art Of Fighters
– The DJ Producer
– Doormouse
– Tymon
– DJ Bryan Fury
– DJ Hidden
– DJIPE
– Tripped
– Thrasher
– Dolphin Official
– Deathmachine
– Joe ET
– Dataklysm
– DJ Devastator
– HOST: MC Ezy
DataklysmDJ Hiddendrum & bassDrum and BassEnglandFreakshowHalloweenHardtechnoline-upManchesterOBLIVION : FREAKSHOWOblivion Presents: FREAKSHOWOld Skool Hardcorepre-partyTechnoThe DJ ProducerUK