DEATHMACHINE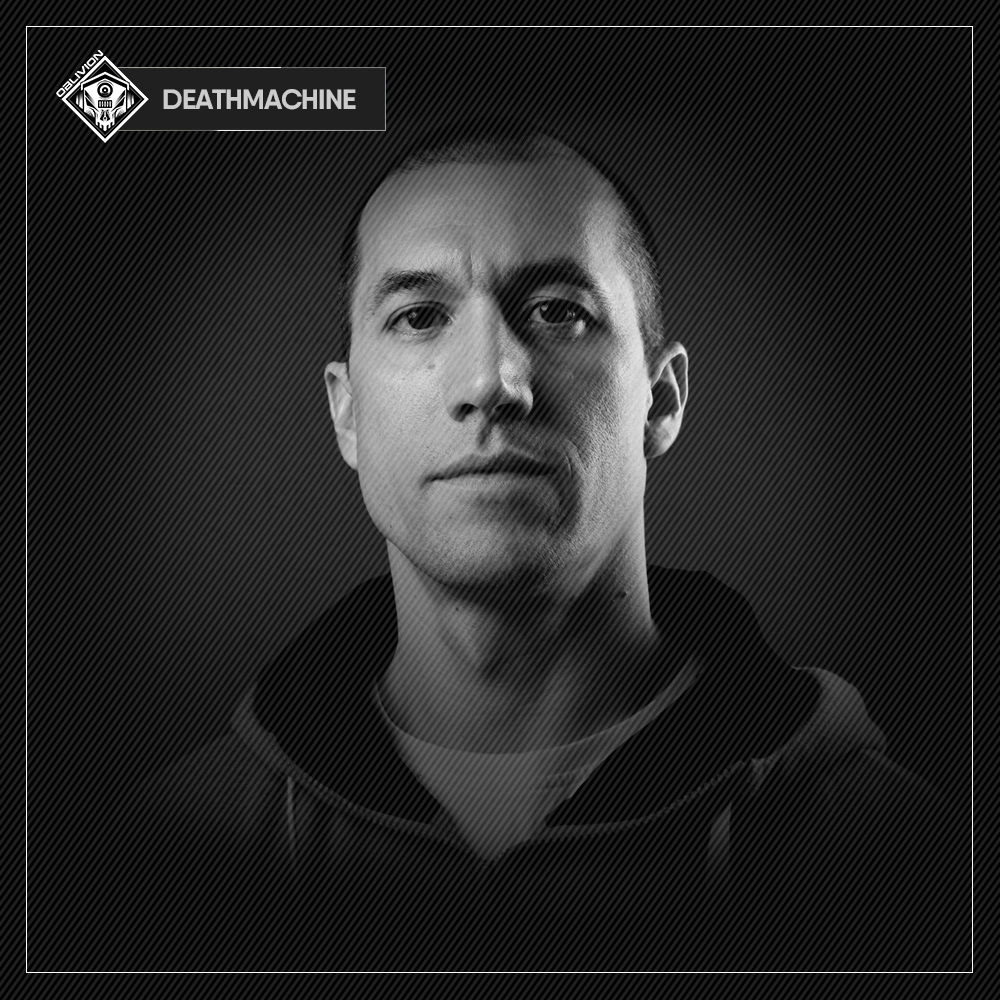 #Name:
Stef Eyre / Deathmachine
Oblivion Underground's Label Manager.
#Introduction:
Deathmachine is on board as Label Manager & Partner at Oblivion Underground since 2015.
Stef is the label manager and quality control at Oblivion Underground, he is responsible in making sure everything we do sounds amazing. He uses his skills to not only mentor and develop up and coming artists, but to master the work of more established guys in order to make it stand up to the label standard. He is also a key decision maker within the senior management team.
25 years deep in the scene, Stef's passion and dedication for Hardcore is unparalleled. His precision is undoubtable. He is the Machine.
#Specialist skills:
– Mastering
– Audio Design
– Resident Artist/Performer
– Record Label Management/A&R
– Strategy
– Innovation
– Number 1 nicest guy in Core 

#Bio:
Deathmachine has been actively involved in the underground Hardcore scene since 1998. He started out like most people by going to raves around the UK. After falling in love with Hardcore Techno and dancing away at raves during the mid-90's, he soon wanted to connect further with the music. He started DJ'ing and after a year secured his "first gig" in Scotland at "The Underground", run by Simon Underground. After that, he worked his way through the ranks playing around the UK, and has now played at nearly every major Hardcore Techno event in the country.
The next step on from DJ'ing was production. Stef started dabbling in production around 2000 and (with the help and tuition of DJ Traffik) released his first track on Corrupt records in 2001. The next few years were spent developing and experimenting but soon more tracks followed, including notable releases on the iconic Rebelscum and Deathchant labels. His early productions were focused on futuristic Hardcore Techno which incorporated breakbeats (the now typically defined UK sound). Soon, a connection was made with The Dj Producer who supported Deathmachine's sound greatly, and eventually they worked together on various releases which included the very successful track "Pixelshifter" on Rebelscum.
Around 2009, the emerging Crossbreed sound grabbed his attention. Always a lover of DnB, and a history of trying to fuse his Hardcore with breakbeats and DnB, meant that this style was just a natural progression. He began writing Crossbreed tracks and found great inspiration and newfound ideas as a result. Recognition and support from The Outside Agency lead to 2 very successful solo releases on Genosha One Seven Five proving his position at the forefront of Crossbreed. Deathmachine has also worked with Switch Technique (Union Recordings) and Forbidden Society (Forbidden Society Recordings) both on solo and collaborative projects which were also well received. Since then, he has been a regular contributor to Genosha One Seven Five and PRSPCT XTRM, firmly establishing him as one of the leading producers in this genre. Other releases and remixes have appeared on The Third Movement, Industrial Strength Records, Neophyte Records, Pacemaker and many more.
Always active in the studio, his focus is on creating powerful genre-pushing (but still of course danceable) music that engages the listener on a number of levels. His background in underground Hardcore along with his new work in the direction of Crossbreed and DnB results in great diversity both in the studio and in the clubs.
As A&R manager and mastering engineer for our label "Oblivion Underground Recordings", Stef uses these years of experience to provide quality mastering with a keen ear for signing tracks that fit the Oblivion Underground vision.
artistBreakcorecrossbreedDeathmachineDJHardcoreindustriallabelManagermusicproducerUK Hardcore