JOE ET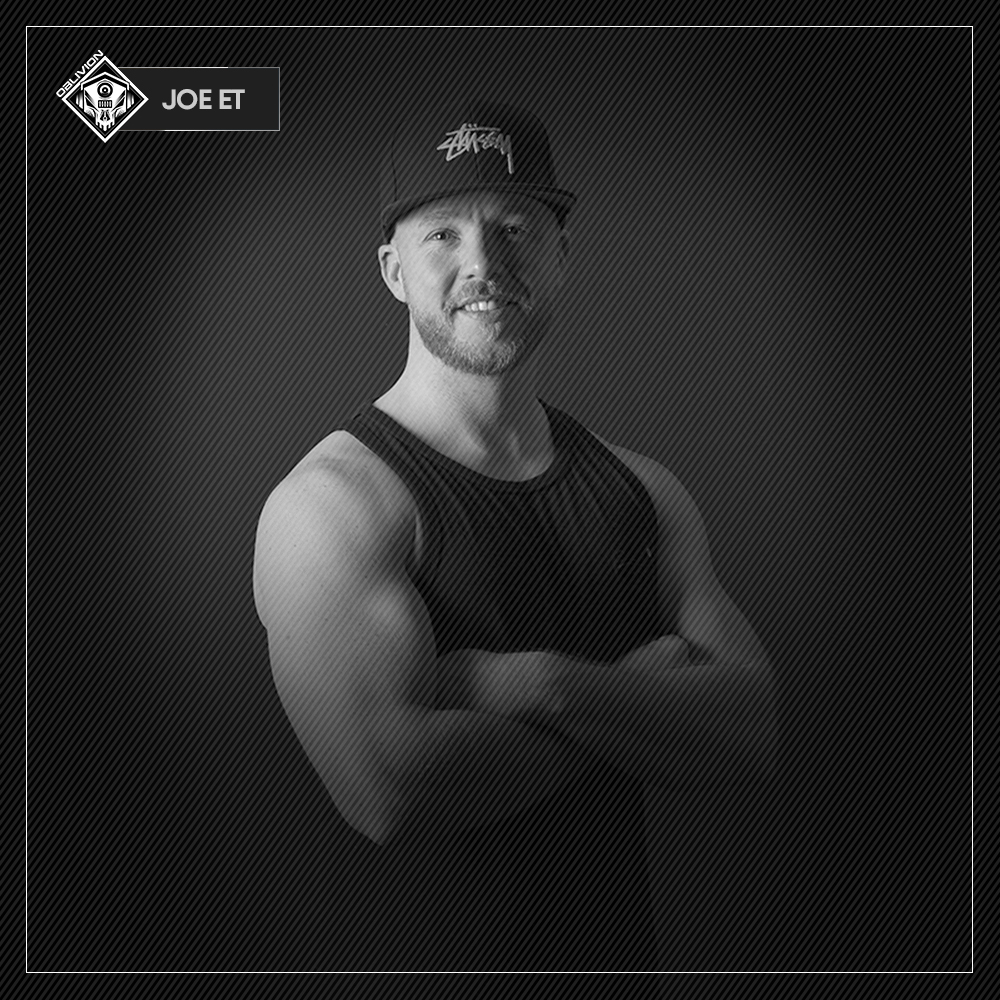 #Name:
Joe ET Walker / Joe ET
Oblivion Underground's Director.
#Introduction:
Joe is the head honcho and final level boss at Oblivion Underground. With 20 years in the scene, he has
promoted over 45 parties and has performed at hundreds of events across the UK and around the world. His unwavering commitment to the scene and talent as a DJ have seen him play at huge European festivals like Dominator and as far afield as Japan.

Joe has been instrumental in the development of Oblivion Underground. His vision and belief in the organization and his ability to bring people onboard who share his passion have created a team who genuinely care about helping the scene and each other go from strength to strength.
Multitalented, with strengths in project management, event management and strategy, Joe has a relentless, passionate work rate that keeps himself and those around him motivated.
#Specialist skills:
– Event Management
– Project Management
– Record Label Management/A&R
– Resident artist/Performer
– Audio, Video & Graphic Design
– Social Media & Marketing
– Strategy
– Innovation
– Drinking Champion #1

#Bio:
Joe ET's passion for Hardcore began with an introduction to rave in 1993. He instantly got the bug and was spending all of his pocket money on tapes and avidly collecting flyers and memorabilia. This continued through his school years and by 1999 he was mixing Hardcore and Techno vinyl and running smaller events in bars and youth clubs.
At the age of 16, Joe was frequenting Techno, Drum and Bass, Jungle and Hardcore nights throughout the UK and was a regular at Atomic Jam and the UK's number 1 Hardcore/Gabber brand North.
In 2001 he featured in the North "Dogs Bollox" competition, playing Techno with a close friend, Dave Gibson (Discord/Mr.E). Following on from this, Joe gained further experience playing Hard Techno at several events across the UK.
The hunger for harder and harder techno in his sets, coupled with exposure to Hardcore and Gabber on a regular basis lead to a natural progression to performing sets within this genre.
The same year he got involved in event promotion following a meeting with Tom Brown, and started running Oblivion in Leicester at Club Soho. He never looked back and by this time was 100% dedicated to promoting Oblivion (not yet called "Oblivion Underground") and Hardcore music in all its forms. Joe became board administrator and a pro-hardcore activist on one of the UK's biggest internet message forums, UKScene where he learnt the importance of online promotion, networking and community skills.
Oblivion Underground took off in a big way through 2002-2004, with the biggest acts from all over the world and the cream of the UK's talent featuring. A lot of boundaries were crossed and moulds broken during this time, including the introduction of Crossbreed and Breakcore to the UK scene, the brand toured throughout the UK with great success.
As a DJ, Joe ET flourished alongside Oblivion Underground, fuelled by his passion and drive. He received regular bookings all over the UK performing Hardcore, Industrial, Breakcore & Crossbreed sets at the country's biggest organisations as well as forging long lasting relationships within the scene.
Oblivion Underground moved from Leicester to Stoke in 2009, and made an immediate impact by putting on a legendary party with North, effectively bringing the North brand out of temporary retirement at the same time. This re-enforced Oblivion Underground's position as a frontrunner in the UK scene, and was a successful move.
Since 2013, Oblivion Underground has ran parties at Tunnel Club Official in Birmingham and a special Warehouse event at The Unit in Derby.
Joe ET began to receive bookings in Europe in 2011/2012, with performances in Belgium, Italy, France, Austria, Netherlands, Germany, Spain, etc. He also picked up a residency at Hell Is Hard in 2013.
His hunger has developed and despite him not having any of his own releases to date, his DJing ability, dedication and attitude have presented him with many fantastic opportunities. This has lead on to further bookings in Europe at parties such as Q-base, Heresy, Footworxx, MuSick, Therapy Sessions UK, Ibiza Goes Hard, Hardcore Around The World, Leeds Festival and many more, performing both individually as well as B2B with several established artists, including Deathmachine & Dolphin who are now part of the Oblivion Underground crew.
Joe ET is the key figure at Oblivion Underground – Recordings & Events.
To date, he has promoted 36 parties and as Joe ET has performed at 100's of events. He is now one of the most accomplished and experienced DJ's and promoters in the UK and more recently, in Europe.
In October 2015, Joe set in motion a new evolution of the Oblivion Underground brand, bringing Stef -aka Deathmachine- and Kam -aka KaM Artwork- into the team to strengthen its ability to efficiently deliver and promote cutting edge events and music in the UK and Europe.
artistBreakcorecrossbreedDJHardcoreindustrialJoe ETManagermusicOblivion Undergroundproducer